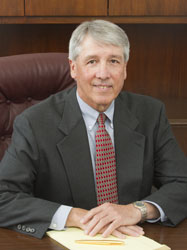 Certified Financial Planner®
Pat is a founding partner of BCA Financial Services.  He has been a Certified Financial Planner Licensee since 1986.  He earned a Bachelor of Arts in Mathematics Education from Eastern Washington University and a Masters of Arts in Teaching Mathematics from Lewis and Clark College in Portland.
Pat focuses on using the team approach to help individuals, families, and businesses of all ages in simplifying the financial planning process.  This includes current financial issues, and helping clients accumulate the funds necessary for a variety of short and long term goals. His team will then design and implement the systems that can help provide clients a lifetime of income during retirement.
Pat has been an active member of the local community.  He continues to be a long time member of the Chamber of Commerce and has received the Chamber's Business of the Year Award.  He is a long time member of the Financial Planning Association of Oregon and SW Washington, and has spent many years as a member and chairman on the Oregon Department of Fish and Wildlife Restoration and Enhancement Board.  He also spent many years as a volunteer with a variety of local sports teams as a coach and other leadership positions.
Pat and his wife Patricia have 2 wonderful children and grandchildren.  In his spare time he enjoys a variety of outdoor sports.